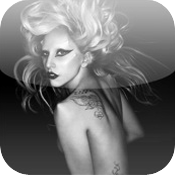 Lady Gaga: The Monster In You is an app for Facebook, iPhone and Android by Lady Gaga and Interscope Records to celebrate release the release of Born This Way. The app was created in partnership with Appetizer Mobile and was available for 99 cents from the AppStore and Google Play. The application allows Lady Gaga fans to morph into "Little Monsters" by selecting or taking a photo of themsleves and then using a simple set of markers to automatically apply prosthetic horns, makeup and lipstick. Other features allow fans to download the album and share pictures on Facebook and Twitter, as well as via MMs and email. Fans can s croll through other Monster's photos via the Monster Globe.
Ad blocker interference detected!
Wikia is a free-to-use site that makes money from advertising. We have a modified experience for viewers using ad blockers

Wikia is not accessible if you've made further modifications. Remove the custom ad blocker rule(s) and the page will load as expected.