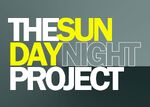 The Sunday Night Project is a British comedy and Variety show by Princess Productions, that first aired on Channel 4, in February 2005, under the title The Friday Night Project. Originally broadcasted on Friday nights, the show moved to Sunday nights for its seventh season in 2008.
Lady Gaga performed a version of Just Dance without Colby O'Donis' verses. After the performance, a parody video was made by Alan and Justin.
The performance aired on the 5th episode of the 8th series.
Set list
Ad blocker interference detected!
Wikia is a free-to-use site that makes money from advertising. We have a modified experience for viewers using ad blockers

Wikia is not accessible if you've made further modifications. Remove the custom ad blocker rule(s) and the page will load as expected.