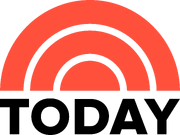 Today, also referred to as The Today Show, is a morning news and talk show. Debuting on television in 1952, it stands as the third longest running American television series. On September 1, 2013, a title under "TODAY SHOW-BG CUES" was uploaded onto Gaga's BMI.
Set list:
Lady Gaga and Cyndi Lauper appeared on the show to talk about the MAC Cosmetics Viva Glam campaign.
The night before the performance, Lady Gaga bought pizza for her fans who had camped out the night before. She performed at Rockefeller Plaza. During rehearsal, she was seen sporting regular sunglasses with a black outfit, fishnets, and stiletto heels. During the actual performance, the crowd is estimated to be around 20,000 people. She wore an Emporio Armani designed suit, which included a white bra that had small silver crosses, along with a white jacket and white pants. With the white suit, she also wore a headpiece designed by Keko Hainswheeler. After the performance of "Someone to Watch Over Me" and "Bad Romance", Gaga was asked a couple questions regarding fame and music. During her performance of "Yoü and I", she started playing a solo piano melody with a crystal disco ball mask designed by Hirotake Sakai and Chino Omae. For the finale of the song, she climbed on top of the piano and played a single note on the piano while singing into the microphone. During the performance of "Alejandro" and "Teeth", she changed into a black version of her previous outfit, also designed by Emporio Armani. During her performance, it began to rain, but Gaga continued with her performance.
"
There are certainly things that are difficult to deal with, but the kind of fame that I cherish is the relationship I have with my fans.
"

—Lady Gaga
Set list:
Crew and fashion
Gaga was interviewed with Tony Bennett at Frank Sinatra School of The Arts in NYC.
Reference
Edit