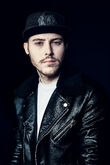 Thomas Hanisch was founded in summer 2013. Hanisch studied on the international school for fashion and arts, Esmod Berlin. After his diploma he got a cooperation with G-Shock and Casio to design his own watch. The diploma collection 2013 was inspired by the robes and corsages of Queen Elizabeth I, and the movie 'Metropolis' from 1927, which is telling a story about a futuristic city and a robotic women. With his debut collection at Mercedes-Benz Fashion Week he totally went through new dimensions. Fabrics like leather, latex, plastic bars, lace were used in tons of colors and avant-garde shapes.
"Rebirth of Queen Elizabeth I": 2013 Collection
Edit
Autumn/Winter 2015 Collection
Edit
Ad blocker interference detected!
Wikia is a free-to-use site that makes money from advertising. We have a modified experience for viewers using ad blockers

Wikia is not accessible if you've made further modifications. Remove the custom ad blocker rule(s) and the page will load as expected.