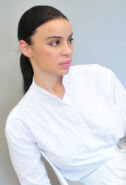 Tia Cibani is a designer born in North Africa and raised in Canada, she lived and worked for extensive periods in China. In 2004 she came to New York to relaunch Ports 1961, where as Creative Director she led the design team, oversaw a major retail expansion, and created a successful red carpet collection that dressed women of Hollywood and beyond. During New York Fashion Week in September 2012, introduced her namesake brand, and was quickly named a new designer to watch by Style.com, Vogue Italia, and WWD. Cibani debuted with her season Spring/Summer 2013; and won the Fashion Group International Rising Star Award in women's wear, honoring the best in emerging fashion talent. 
Pre-Fall 2015 Collection
Edit
Ad blocker interference detected!
Wikia is a free-to-use site that makes money from advertising. We have a modified experience for viewers using ad blockers

Wikia is not accessible if you've made further modifications. Remove the custom ad blocker rule(s) and the page will load as expected.