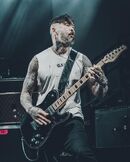 Tim Stewart is a guitarist that started with Gaga on the "Born This Way Ball" Tour to present. Also is producer, and writes with Tricky Stewart and Rodney Jerkins. He was part of the Jazz trio that includes Pino Palladino and Chris Dave and has played with everyone from Infectious Grooves to Britney Spears.
Work with Lady Gaga
Edit
Ad blocker interference detected!
Wikia is a free-to-use site that makes money from advertising. We have a modified experience for viewers using ad blockers

Wikia is not accessible if you've made further modifications. Remove the custom ad blocker rule(s) and the page will load as expected.