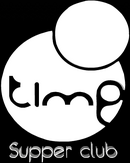 Time Supper Club is night club in Montreal, Canada.
During the Formula 1 Grand Prix weekend, Time Supper Club presented with "Music Loves Fashion" Lady Gaga with her two dancers and DJ Space Cowboy. The full performance is available on YouTube.
Set list:
"LoveGame"
Pop Music Will Never Be Low Brow (interlude) (French version)
"Beautiful, Dirty, Rich" (Contains elements of "Bang Bang (My Baby Shot Me Down)")
Technology (Interlude) (Contains elements of "My Egyptian Lover")
"Just Dance" (Richard Vission Extended Rework Remix)
Ad blocker interference detected!
Wikia is a free-to-use site that makes money from advertising. We have a modified experience for viewers using ad blockers

Wikia is not accessible if you've made further modifications. Remove the custom ad blocker rule(s) and the page will load as expected.