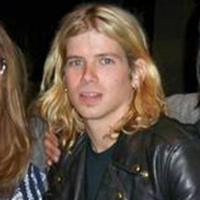 Thomas Kafafian (born in 1984) also known as Tom or Tommy is a musician from New Jersey.
Biography
Edit
Born in Northern, NJ, Tom Kafafian grew up in music. With both of his brothers in bands, and guitars always around him, he almost had no choice but to pick it up and play. Tom got his debut in a ska band called Sideswiped. With Tom on guitar and background vocals, this full 12 piece band toured extensively in the tri-state area to much acclaim.
Tom's next venture came at the hands of his second band, Concept Zero in which he sang lead vocals and played bass. A rock band at heart, they received critical acclaim for a song he wrote called "In Loving Memory" talking about the loss of the band's mother in the horrible attacks of 9-11. This song got them on the pages of Rolling Stone and one step closer to what they've always wanted.
In the Winter of 2003, Tom just up and decided to drive 45 minutes from his house, and play an open mic he had never heard of before. It was here, after 2 minutes of one song, that Tom was discovered. Two phone calls, and a month later, Tom was in the studio recording his first album with the help of Rob Fusari ( music producer of #1 hit singles, Destiny's Child, Bootylicious; Will Smith, Wild, Wild West, Jessica Simpson double-platinum, title track, In this Skin).
Writing, singing, playing guitar, bass, and helping in production seemed to be second nature as he laid down the tracks for "In Through the Outside". His debut CD with independent record label, Great Escape Records,due out August 2004.
Involvement with Lady Gaga
Edit
Tom met with Lady Gaga and Rob Fusari in 2006.
Wrote songs with Gaga and Rob, as Wonderful and others.
Played instruments on her track.
Was in the summer of 2009 live band for The Fame Ball Tour.
Ad blocker interference detected!
Wikia is a free-to-use site that makes money from advertising. We have a modified experience for viewers using ad blockers

Wikia is not accessible if you've made further modifications. Remove the custom ad blocker rule(s) and the page will load as expected.