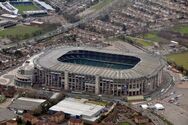 Twickenham Stadium (pronounced /ˈtwɪkənəm/; usually known as just Twickenham or Twickers) is a stadium located in Twickenham, in the London Borough of Richmond upon Thames. It is the largest rugby union stadium in the world and has recently been enlarged to seat 82,000. This makes it the second largest stadium in the UK after Wembley Stadium and the fifth largest stadium in Europe.
Part of The Born This Way Ball Tour.
Additional notes (September 8):
Gaga was 30 minutes late, and due to the arena being in a residencial area, the show should end at 10 p.m. So "Americano", "Poker Face" and "Alejandro" were not performed.
Gaga performed John Lennon's "Imagine" on the piano.
The Darkness opened for Gaga on both nights.
Set list:
Act I
Space (intro)
Operation: Kill the Bitch (interlude)
Birth (interlude)
Interlude
Mother G.O.A.T. Manifesto I (interlude)
Interlude
Act II
Act III
Mother G.O.A.T. Manifesto II (interlude)
Imagine (Jonh Lennon cover)
Act IV
Interlude (September 9 only)
Americano (September 9 only)
Poker Face (September 9 only)
Alejandro (September 9 only)
Act V
Ad blocker interference detected!
Wikia is a free-to-use site that makes money from advertising. We have a modified experience for viewers using ad blockers

Wikia is not accessible if you've made further modifications. Remove the custom ad blocker rule(s) and the page will load as expected.