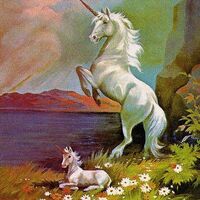 Unicorns are mythological creatures that resemble horses with a horn on their head. The word for unicorn in Latin is unus, which means "one", and cornus "horn". It symbolizes purity (all aspects) and strength.

Lady Gaga's References
Edit
Lady Gaga believes that unicorns are beautiful mythological creatures that she feels represent her beliefs in a way.
Gaga received a plastic toy from a fan that she calls "Gagacorn".
Unicorn Piano
Edit
The Unicorn Piano is a piano created by the Haus of Gaga. It was first seen on Good Morning America on May 27, 2011 during Gaga's performance of "Hair".
Gaga had a new tattoo printed in 2010 of a unicorn on her left outer thigh with a banner that reads "Born This Way", a tribute to her album.
Born This Way (music video)
Edit
In the music video for "Born This Way", a unicorn is seen at the beginning and end.
In the virtual game, Farmville, Gaga created a neighborhood called "Gagaville" to promote her album, Born This Way, where some of the special items were unicorns.
Highway Unicorn (Road to Love)
Edit
Gaga released a song titled "Highway Unicorn (Road to Love)" which cites the creature.
Noritaka Tatehana
Edit
Noritaka Tatehana created many shoes worn by Gaga including inspirations from unicorns, used in the Born This Way promotional photoshoot by Mariano Vivanco.
The Born This Way Ball
Edit
Ad blocker interference detected!
Wikia is a free-to-use site that makes money from advertising. We have a modified experience for viewers using ad blockers

Wikia is not accessible if you've made further modifications. Remove the custom ad blocker rule(s) and the page will load as expected.