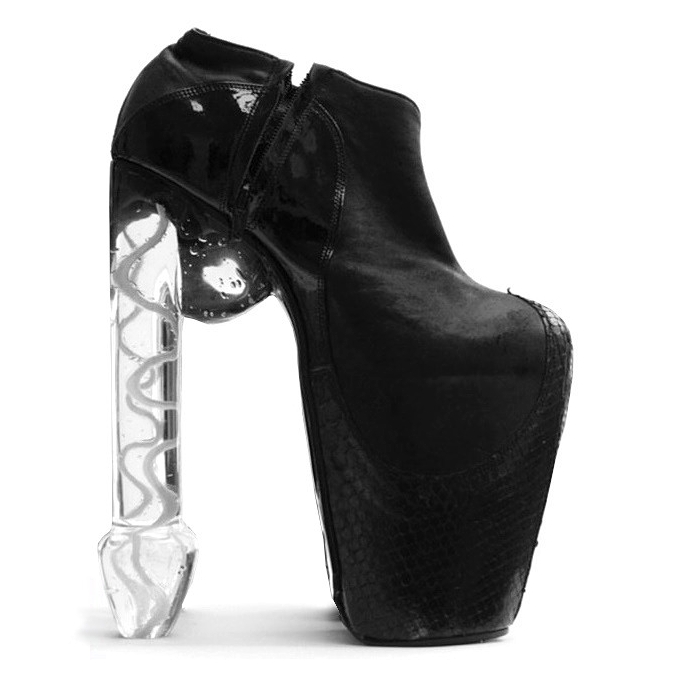 On last night's American Idol, Lady Gaga appeared as a guest mentor and showed up to coach the final four in her typical shock-wear and makeup, aka a two-toned bobbed wig with black bangs, a crazy huge blue beauty mark and the facial implants she's been sporting for the majority of her Born This Way promo tour. But it was actually her shoes that are causing tongues to wag today. They stiletto's had, um, PENIS HEELS.
According to Idol host Ryan Seacrest from his radio show this morning, "She came in broadcast standards-sensitive shoes, wearing a very popular female tool on her feet. Only Gaga can put herself into footwear that is a device of pleasure".
Idol producers smacked cartoonish-bright red stars over the sexually explicit stilettos because each had a Lucite penis for a heel There were never any closeups of Gaga's footwear -- only pretty distant shots of her sitting opposite the Idol contestants as she listened to them do their renditions of songs by Leiber & Stoller. But FOX blocked out the "foreskin region" of the heels, because producers say Idol is "family-friendly viewing" and these penis stilettos are anything but.
Still, as an Idol fan and watcher, I've seen more sexually explicit innuendo from Adam Lambert (remember the uproar?). What do you think- did Gaga go too far or is all this penis shoe flack a little, um, flaccid....
Resource
Ad blocker interference detected!
Wikia is a free-to-use site that makes money from advertising. We have a modified experience for viewers using ad blockers

Wikia is not accessible if you've made further modifications. Remove the custom ad blocker rule(s) and the page will load as expected.