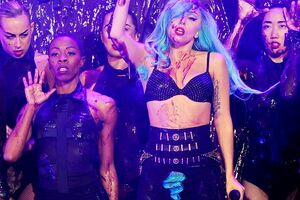 You know the old catchphrase so-and-so's a "true" redhead'?
On Sunday night at the 2011 MuchMusic Video Awards, Lady Gaga proved herself a true bluehead. At least for the night.
Not unlike other recent sexually charged looks, (recall the recent penis boots), Gaga had jaws dropping during her finalé performance of Born This Way when she revealed florescent blue underarm and crotch hair to match her blue wig.
You can watch her rather revealing performance below.
Let us know what you think- was Lady Gaga born this way?