The Next Single?
So Lady Gaga already released the remix compilation of Born This Way..
It goes...
1.
"Born This Way" (Zedd Remix)
2.
"Judas" (Goldfrapp Remix)
3.
"The Edge Of Glory" (Foster the People Remix)
4.
"You and I " (Wild Beasts Remix)
5.
"Marry The Night" (The Weeknd & Ilangelo Remix)
6.
"Black Jesus † Amen Fashion" (Michael Woods Remix)
7.
"Bloody Mary" (The Horrors Remix)
8.
"Scheiße" (Guéna LG Remix)
9.
"Americano" (Gregori Klosman Remix)
10.
"Electric Chapel" (Two Door Cinema Club Remix)
11.
"Yoü and I" (Metronomy Remix)
12.
"Judas" (Hurts Remix)
13.
"Born This Way" (Twin Shadow Remix)
14.
"The Edge of Glory" (Sultan & Ned Shepard Remix)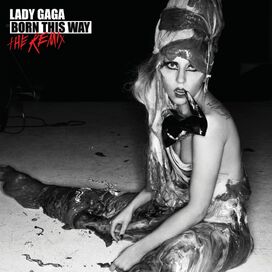 There is something familiar with the tracklist.. First is Born This Way, and then Judas, then The Edge Of Glory and so on, so forth.. The next after Marry The Night is Black Jesus Amen Fashion (I can't do the cross thingie), after is Bloody Mary then the last is Electric Chapel, ever thought that maybe the next single is Black Jesus, after that is Bloody Mary then so on and so forth?
It is just my observation, I really don't know if it will become a single, just a maybe..
Paws Up!
Iwontcryforyou 11:51, October 22, 2011 (UTC)
Another Opinion (Government Hooker)
One of my another observations is that Government Hooker maybe the next singel after Marry The Night. It's because:
1. She played the song at Thierry Mugler's Womenswear Autumn/Winter fashion show

2. She played it for Bill Clinton's 65th birthday

3 She says that she loves this song in many interviews

4. Watch her dance to it (video below)
5. She used it in the VMA commercial

6. Some fans said in the shooting of 'Marry The Night' music video, they heard a little bit of 'Government Hooker' in the video
I really wish that this would be a single...
Any thoughts, little monsters? It's just my opinion...
Iwontcryforyou 3:18, November 3, 2011 (UTC)
Ad blocker interference detected!
Wikia is a free-to-use site that makes money from advertising. We have a modified experience for viewers using ad blockers

Wikia is not accessible if you've made further modifications. Remove the custom ad blocker rule(s) and the page will load as expected.