The Music Wiki's 2012 Concert Series
Show #13: Lady Gaga - The Born This Way Ball Tour
Apologies to North American readers, but Lady Gaga will not be bringing The Born This Way Ball Tour to your region until 2013, so it's a a bit of a stretch from your perspective that this tour is part of the 2012 Concert Series. However, we must give Gaga credit for touring the rest of the world so extensively. The tour is now a quarter complete, as she finished the Asia and Oceania portions on July 8th. Lady Gaga is currently taking a break until she hits up Europe and South Africa starting on August 14th in Sofia, Bulgaria.
Don't be too impatient, though. At least the international sections of the tour can provide sneak peeks. Check out the videos below, and if you happen to live in Europe, get tickets now, and don't forget to share your photos and videos right here!
Tour Dates
August 14, 2012
Sofia
Bulgaria
Armeets Arena
August 16, 2012
Bucharest
Romania
Arena Națională
August 18, 2012
Vienna
Austria
Wiener Stadthalle
August 21, 2012
Vilnius
Lithuania
Vingio Parko Estrada
August 23, 2012
Riga
Latvia
Mežaparka Lielajā Estrādē
August 25, 2012
Tallinn
Estonia
Tallinn Song Festival Grounds
August 27, 2012
Helsinki
Finland
Hartwall Areena
August 28, 2012
August 30, 2012
Stockholm
Sweden
Ericsson Globe
August 31, 2012
September 2, 2012
Copenhagen
Denmark
Parken Stadium
September 4, 2012
Cologne
Germany
Lanxess Arena
September 5, 2012
September 8, 2012
London
England
Twickenham Stadium
September 9, 2012
September 11, 2012
Manchester
Manchester Arena
September 15, 2012
Dublin
Ireland
Aviva Stadium
September 17, 2012
Amsterdam
Netherlands
Ziggo Dome
September 18, 2012
September 20, 2012
Berlin
Germany
O2 World
September 22, 2012
Paris
France
Stade de France
September 24, 2012
Hanover
Germany
TUI Arena
September 26, 2012
Zurich
Switzerland
Hallenstadion
September 27, 2012
September 29, 2012
Antwerp
Belgium
Sportpaleis
September 30, 2012
October 2, 2012
Milan
Italy
Mediolanum Forum
October 4, 2012
Nice
France
Stade Charles-Ehrmann
October 6, 2012
Barcelona
Spain
Palau Sant Jordi
Africa
November 30, 2012
Johannesburg
South Africa
FNB Stadium
December 3, 2012
Cape Town
Cape Town Stadium
Videos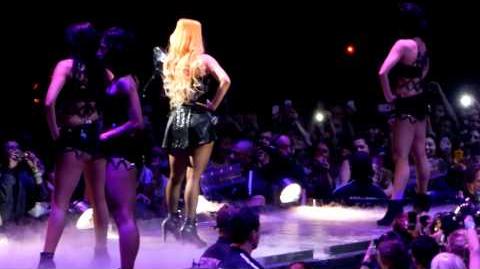 Poll
Are you going to the Born This Way Ball?
Now that you've seen the show, comment below on what you thought! And don't forget links to photos and/or videos!
Ad blocker interference detected!
Wikia is a free-to-use site that makes money from advertising. We have a modified experience for viewers using ad blockers

Wikia is not accessible if you've made further modifications. Remove the custom ad blocker rule(s) and the page will load as expected.