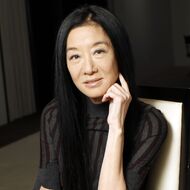 Vera Ellen Wang (Chinese: 王薇薇; Mandarin pronunciation: [u̯ɑ̌ŋ u̯éɪ̯u̯éɪ̯]; born June 27, 1949) is an American fashion designer based in New York City and former figure skater. She is known for her wide range of haute couture bridesmaid gowns and wedding gown collections, as well as for her clientele of elite lady figure skaters, designing dresses for competitions and exhibitions.
Fall 2013 Collection
Edit
Unveiled 2013 Collection
Edit
Spring 2015 Collection
Edit
Spring/Summer 2017 RTW Collection
Edit
Ad blocker interference detected!
Wikia is a free-to-use site that makes money from advertising. We have a modified experience for viewers using ad blockers

Wikia is not accessible if you've made further modifications. Remove the custom ad blocker rule(s) and the page will load as expected.