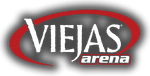 Viejas Arena, located on the San Diego State University (SDSU) campus in San Diego, California, is the home of the San Diego State Aztecs men's and women's Basketball Teams.
Part of artRAVE: The ARTPOP Ball.
Trivia:
Starting at this show, Gaga wore the same wig for Act I and III.
At the end of "Mary Jane Holland", Gaga accidentally knocked over one of the chairs and proceeded by throwing the rest of them onto the stage.
Lady Gaga performed an acapella snippet of "Marry The Night", with one line changed to "Fuck cancer!"
Setlist:
ACT I:
Video Intro
Band ARTPOP Intro
Fashion! Intro
ACT II:
Venus Intro
ACT III:
ACT IV:
Partynauseous Intro
Born This Way (Acoustic)
ACT V:
Jewels N' Drugs Intro
Mary Jane Holland Intro
ACT VI:
Marry The Night (acapella)
Encore:
Gypsy (Acoustic + Album version)
References
Edit