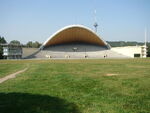 Vingis Park is the largest park in Vilnius, Lithuania. Located at a curve in the Neris River, it covers 162 hectares (400 acres). It is used as a venue for various events, especially concerts and sports competitions.
Part of The Born This Way Ball Tour.
Set list
Act I
Space (intro)
Operation: Kill the Bitch (interlude)
Birth (interlude)
Emerging (interlude)
Mother G.O.A.T. Manifesto I (interlude)
G.O.A.T Briefing (interlude)
"Judas"
Act II
Act III
Mother G.O.A.T. Manifesto II (interlude)
Speech
"Bad Kids"
"Princess Die" (June 27, 2012 - TBA)
"Yoü and I" (acoustic)
Act IV
Interlude
"Americano" / "Poker Face" (medley)
Act V
"Scheiße"
"The Edge of Glory" (acoustic + album)
Ad blocker interference detected!
Wikia is a free-to-use site that makes money from advertising. We have a modified experience for viewers using ad blockers

Wikia is not accessible if you've made further modifications. Remove the custom ad blocker rule(s) and the page will load as expected.