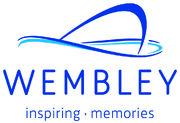 The Wembley Stadium is a football stadium located in Wembley Park, in the Borough of Brent, London, England. It opened in 2007 and was built on the site of the previous 1923 Wembley Stadium. The earlier Wembley stadium, originally called the Empire Stadium, was often referred to as "The Twin Towers" and was one of the world's most famous football stadia until its demolition in 2003.
Gaga supported Take That for two concerts at Wembley Stadium (This was the first).
Gaga used an alternate setlist and only had three costume changes.
She wore a black version of the Mirror Dress that she only wore once for this ocassion.
She wore the red latex dress from Glastonbury once again and the Yellow Tutu.
Set list
Gaga supported Take That for the second time at Wembley Stadium today.
Fashion wise, Gaga wore her standard Mirror Dress, the red latex outfit from Glastonbury and a new black outfit wore specially for this occasion only.
Gaga also wore a long curly wig that she wore in the Josh Olins photoshoot the day before.
Set list
Ad blocker interference detected!
Wikia is a free-to-use site that makes money from advertising. We have a modified experience for viewers using ad blockers

Wikia is not accessible if you've made further modifications. Remove the custom ad blocker rule(s) and the page will load as expected.