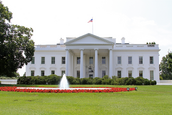 The White House is the official residence and principal workplace of the President of the United States. Located at 1600 Pennsylvania Avenue Northwest, Washington, D.C., the house was designed by Irish-born James Hoban, and built between 1792 and 1800 of white-painted Aquia Creek sandstone in the Neoclassical style. It has been the residence of every U.S. president since John Adams. When Thomas Jefferson moved into the house in 1801, he (with architect Benjamin Henry Latrobe) expanded the building outward, creating two colonnades that were meant to conceal stables and storage.
Lady Gaga performed Inauguration Concert for President Barack Obama.
Set list
Outfit by Versace
Ad blocker interference detected!
Wikia is a free-to-use site that makes money from advertising. We have a modified experience for viewers using ad blockers

Wikia is not accessible if you've made further modifications. Remove the custom ad blocker rule(s) and the page will load as expected.