The William J. Clinton Foundation is a foundation established by former President of the United States, Bill Clinton, with the stated mission to "strengthen the capacity of people throughout the world to meet the challenges of global interdependence". The Foundation focuses on four critical areas: health security; economic empowerment; leadership development and citizen service; and racial, ethnic and religious reconciliation.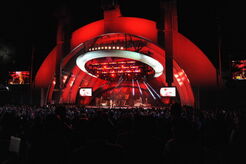 Bill Clinton invited musical guests to give live performances during the event. Among the musical guest list was Lady Gaga who helped celebrate the ten-year anniversary celebration and his 65th birthday at the "A Decade of Difference" concert. Among the songs performed, Gaga delivered a Marilyn Monroe-esque "Happy Birthday" and "Bad Romance", which she changed to "Bill Romance". The event was held at Hollywood Bowl, California.
Arrival
Performance
Set list:
Backstage
Crew / fashion credits
Ad blocker interference detected!
Wikia is a free-to-use site that makes money from advertising. We have a modified experience for viewers using ad blockers

Wikia is not accessible if you've made further modifications. Remove the custom ad blocker rule(s) and the page will load as expected.