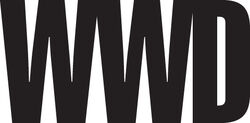 Women's Wear Daily (WWD) is a fashion-industry trade journal sometimes called "the bible of fashion." WWD delivers information and intelligence on changing trends and breaking news in the fashion, beauty and retail industries with a readership composed largely of retailers, designers, manufacturers, marketers, financiers, media executives, advertising agencies, socialites and trend makers. It is the flagship journal of Fairchild Publications, Inc.
August 13, 2007
CHICAGO — While singer-songwriter Lady GaGa was in town here to play Lollapalooza, her itty-bitty black HotPants and high boots proved too much for one of Chicago's fi nest. "You need to put your ass up against the fence," the officer ordered. "There are children around here." One citation for indecent exposure later, Lady GaGa remained amused. "There's a huge festival with people doing cocaine and marijuana, and he's busting me?" the 21-year-old New Yorker asked, adding jokingly, "I really wanted to get cuffed in a jumpsuit."

Welcome to the wild, wacky world of Lady GaGa, an exhibitionistic performer who is turning heads, whether it be for her penchant for wearing underwear as outerwear or for her catchy, if somewhat recycled, Eighties-infl uenced synth pop songs. Although she has no qualms about lowering her keyboard to purposely bend over to reveal her cleavage, Lady GaGa prefers not to reveal her original name. "She's not here anymore," GaGa quipped about her alter ego. "She's covered in sequins."

Maybe that's because her past seems a far cry from the 42nd Street stripper shops she frequents for fashion fi nds. GaGa, formerly known as Stefani Germanotta, the daughter of an Internet entrepreneur and a telecommunications executive, grew up on the Upper West Side and attended the all-girls Convent of the Sacred Heart with heiress Nicky Hilton. Not surprisingly, it wasn't a perfect fit. Gaga got into trouble for hiking up her uniform skirt and wearing Converse sneakers. The fact that she arrived for class each day in full makeup and curled hair also didn't go over well."What are you, a lesbian? No one's looking at you," her classmates teased, GaGa said. "But I'm into theatrics," she noted. "Every morning I like to look fabulous. I like to pretend I'm famous."

Though she's not yet that celebrated, the girl who didn't fi t in in high school is getting noticed now — something that sets Lady GaGa aglow.

Signed to Interscope Records but yet to release her fi rst album, GaGa, who began playing the piano at age four and sneaking out to play coffee houses at 14, gained a following through her cheeky pop-burlesque shows at New York clubs and online. Fans could download songs "Boys, Boys, Boys," "Beautiful, Dirty Rich," "Disco Heaven" and "Dirty Ice Cream" from her MySpace page.
GaGa, who go-gos on the side and takes cues from Cher, David Bowie and Madonna, makes no excuses for her style. "This is my daywear," she explained, indicating her animal-print bikini, pink sequined belt, black spandex leggings and black patent heels bought in a stripper shop. "I'm not comfortable in a T-shirt and jeans."

The performer, who describes her look as "fi lthy, unacceptable," makes some pieces herself, shopping at Manhattan's M&J Trimming. She also buys ready-made leggings at American Apparel and gear from stripper shops on 42nd Street. "You know where they have the 25-cent video booths?" she asked. "Upstairs they have clothes."

Her DJ partner in crime is Lady Starlight, a "30-ish" sister go-go dancer who performed in a neon-green bikini and an Iron Maiden denim vest. "When someone sees a girl in a two-piece out on the town, people think she's a ho," Lady GaGa said. "We think that's awesome. It's rock 'n' roll. [Something more conservative would be] like David Bowie doing Ziggy Stardust in a sweat suit. No one wants to see that."

Lady GaGa doesn't stop with a bikini and black eyeliner. She'll throw in some granny pants underneath for good measure. "It's got to be funny," she said of her everyday attire. "I live for being different."

That quirkiness brightened her show, which at times could seem unpolished. At Lollapalooza, a giant disco ball descended into the middle of the stage and Ladies GaGa and Starlight stood, frozen arms in the air, complete with fog machine for campiness. Between songs, they doused their dark tresses with cans of aerosol hair spray before attempting to set a stream of spray on fire.
"I didn't want to sing about getting my heart broken or world peace," said Lady GaGa, who performed in a bra she had glued with rows of mirrors to resemble a disco ball and skimpy black panties with mirrored trim. "Fashion and attitude and style, that's what we breathe for. We joke that our full-time boyfriend is our vanity."

So Lady GaGa, who's not above doing some pole-dancing or spastic dance moves on stage, sings about partying, hangovers and text messaging boyfriends. "It's a party," she said. "Everything my [high school] friends made fun of me for is what people want more of," she said. "More sequins, more spandex, yes, please."
Except, perhaps, one of Chicago's finest.
Article by Beth Wilson, Photography by Josie Miner.
Photography by Steve Eichner.
Photography by Kyle Ericksen.
Photography by Stéphane Feugère.
July 28, 2013 Lady Gaga: 'I'm Every Icon' By JESSICA IREDALE

The cover image from "Applause," Lady Gaga's first single from her new album ARTPOP. Shot by Inez van Lamsweerde and Vinoodh Matadin. Photo By Inez van Lamsweerde and Vinoodh Matadin.

"I want to know. What do you see?" asks Lady Gaga, her voice carrying a combination of genuine curiosity, press-savvy flirtation and inherent provocation. The image in question, debuted to WWD, is the cover of Gaga's new single "Applause," the first from her forthcoming third studio album ARTPOP, to be released Nov. 11 through Interscope records. Shot by Inez van Lamsweerde and Vinoodh Matadin, the photograph is colorful, emotional and theatrical, capturing Gaga with a Pierrot-esque face, her rainbow of makeup artfully smeared and her hair covered under a head wrap. Asked to explain the image at the outset of a phone interview last Friday, Gaga immediately turned the question around: "I need to get your reading first," she says. "Otherwise it's not art."

She's back.

"Applause" drops Aug. 19 — also the album's presale date — six days before Gaga headlines the MTV Video Music Awards at the Barclays Center in Brooklyn. The VMAs will mark her return to the public domain after a rough six months spent mostly under the radar. ARTPOP was announced in August of last year when Gaga was in the midst of her ambitious Born This Way Ball world tour, which kicked off in April 2012 in Seoul and came to an abrupt halt in February in Montreal when a severe hip injury forced Gaga to cancel the rest of her shows. "My injury was actually a lot worse than just a labral tear," she says. "I had broken my hip. Nobody knew, and I haven't even told the fans yet. But when we got all the MRIs finished before I went to surgery there were giant craters, a hole in my hip the size of a quarter, and the cartilage was just hanging out the other side of my hip. I had a tear on the inside of my joint and a huge breakage. The surgeon told me that if I had done another show I might have needed a full hip replacement. I would have been out at least a year, maybe longer."

The mandatory retreat from the spotlight was almost as painful as the injury itself for someone who hasn't gone without performing for more than two weeks since she was 14 years old. Gaga used the down time not only for an aggressive rehabilitation program but also to hang out with her crew, known as the Haus of Gaga, including van Lamsweerde and Matadin, Brandon Maxwell, the Haus fashion director, her hair and makeup artists and other artistically inclined friends. They read books, listened to music and exchanged "creative gifts that we have to offer each other," says Gaga. "I had six months to beef up my brain and my body. I got to put a giant white or black sheet of paint over my whole canvas and I got to review ARTPOP again. I was given the time to really be creative because it's a gazing process, it really is. I have to gaze into the work for long periods of time for it to be good. I have that feeling, that wonderful feeling, when me, Inez and Brandon look at each other and we go, 'It's so good. That's the one.'"

Van Lamsweerde and Matadin shot the "Applause" video about a week ago in Los Angeles. The photographers, who were introduced to Gaga when they shot her first V cover in 2009, have since worked on several fashion films for her. This is the first time they've shot a music video for her. Gaga chose the cover image from the video shoot because she thought it showed a different side of her performance, a vulnerable part that the public doesn't often see. "It's the end of the night after the show," she says. "When I look at it I see that there is a longing for the applause. I see that there is a void that is leaking onstage, that the performer is leaking, that the art is sort of becoming something else in front of your eyes. Something more human, something more honest." Gaga recalls being moved to tears during this particular performance for the cameras.

As for the music, details are at a premium, but despite the tears and pantomime face, "I'll tell you that it is very fun," she says. "And that it's full of happiness, because what I'm saying in the song essentially is that I live for the applause. I live for the way you cheer and scream for me. Give me that thing that I love. Put your hands up, make them touch." At this point, it sounds like she's quoting lyrics, but again, we won't know until Aug. 19, barring a leak.

Gaga wrote "Applause" with DJ White Shadow, with whom she's collaborated for five years. "In my heart of hearts as I was writing, I knew that if I asked [the fans] to cheer for me before I sang or if I alluded to the fact that they would cheer for me before I sang....They do that all the time for me; before I even open my mouth, the fans start cheering for me. And so this exclamation, 'Give me that thing that I love. Give it to me. I'm ready, start the music.' I'm from New York. I've worked since I was a five-year-old to be a performer. All my life. I deserve to be here. I'm ready." Again, could these be lyrics?

Since the beginning, ARTPOP has been billed as not just an album but a "project," a multimedia experience that will include an app. As the title suggests, "the point [of ARTPOP] is that art and pop can have an exchange," says Gaga. Van Lamsweerde said she and Matadin have an image bank of 300 photos that they will try to edit down with Gaga and "put it out there, whether in a museum, on the Internet, for a single cover or for the press — it all will have its moment."

A directional fashion component seems like a given from an artist who has embraced and been embraced by fashion, both haute and experimental. She mentions that the white cloth that surrounds her in the "Applause" cover image is a coat by Gareth Pugh. But when asked if he had a larger influence in the ARTPOP look, she responds with part deflection, part abstraction, turning the question back at the reporter: "It's interesting how you view things, and you look at it like, I'm a pop icon, and [you wonder] 'Is this the image of the album? Is this the direction? Who came up with it?' I think that's so interesting because it's exactly the kind of thing we're trying to destroy. This is one jacket. This is one image. This is one moment. This is one statement.

"When you watch each image and you watch each thing come out, they might not look exactly the same," says Gaga. "[I'm not] defined by the same designer or defined by the same hair cut or defined by the same icon. The statement is that I'm not one icon. I'm every icon. I'm an icon that is made out of all the colors on the palette at every time. I have no restrictions. No restrictions." Well, maybe one restriction: Gaga alluded to artistic collaborations with Robert Wilson for the VMAs, but declined to give specifics other than two more were forthcoming with Marina Abramovic and Jeff Koons.

If Gaga seeks to avoid labeling the fashion and visual component of ARTPOP, it has been deeply considered and strategic, beginning with already-in-circulation images from her September cover shoot for V, again shot by van Lamsweerde and Matadin, showing the star completely naked. "There is a sense of stripping bare and then putting things back on. That's the process she's going through," says van Lamsweerde. "I always say to her, 'Look at you. You are incredibly beautiful, accept it. Don't try to hide your face, just shine through.' For her, it's a part of that not hiding behind wigs and glasses and all kinds of stuff." Her stylist and fashion director Maxwell also engages in some philosophical musings about the direction: "I think that this time it is about letting some of it go and the focus being on the music because now she's comfortable being naked and being who she is. The world has seen everything." But he also acknowledges that there will be clothes, most of them custom. Alexander Wang for Balenciaga created some custom pieces. Maxwell also said Versace, Armani and Hedi Slimane for Saint Laurent are still in the mix, as is the label Mila Schön, which created a few catsuits for "Applause." "It's more toned down and pulled back and chic," says Maxwell. "But it's also that we're making suits out of things that they would not normally be made out of, like plastic, but they're super well-tailored and clean. Maybe she's just wearing a simple catsuit and a head wrap like she's wearing here, but we sort of do the craziness on the face."

So, there are clues to Gaga's new look, but what about ARTPOP's sound, will it also be stripped down and minimal? Not necessarily. "It's true Gaga," says van Lamsweerde. "You can't get it out of your head."

That's it for details. Little Monsters will have to wait for the VMAs, to which she famously arrived in an egg in 2011, to see what Gaga has in store. "I'm sending a doppelgänger," she says. "I'm going this year as a fried egg instead of hard-boiled."
Photography by Inez and Vinoodh.
Photography by Stéphane Feugère.
Ad blocker interference detected!
Wikia is a free-to-use site that makes money from advertising. We have a modified experience for viewers using ad blockers

Wikia is not accessible if you've made further modifications. Remove the custom ad blocker rule(s) and the page will load as expected.