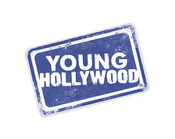 Young Hollywood is a privately held multimedia entertainment company founded in Los Angeles, California by R.J. Williams. The company licenses the "Young Hollywood" trademark domestically and internationally for a range of consumer products and services.
Interview
Edit
Young Hollywood: I'm here with Lady Gaga and I have to say, she is a lady of style.
Lady Gaga: I'm just very inspired by everything that's going on always. And right now I'm inspired by Margiela, so I'm in a shoulder-pad phase, if you will.
YH: I've heard that you are saying that you're going to change the world one sequin at a time.
LG: It's really sort of just a metaphor for changing the world in more ways than just with the music. It's about the fashion, lifestyle, the vision and the performance art.
YH: Tell us a little bit about your sound.
LG: It's definitely pop. One hundred fifty thousand percent. But we've got some 80's; we've got a little 70's Trash Glam in there. It's pretty eclectic. I would say theatrical pop music.
YH: There is a big performance going on and you're here at the night before of that, what can we expect from you?
LG: It's going to be a definitely emotional experience for all of you. It's a Pop show, it's very dramatic. Haus Of Gaga, which is my creative team; we really put our heads together and designed some pretty impressive devices and things on stage that will be different, very fresh, very forward-thinking.
YH: Tell us about the ladies behind you.
LG: This is Dina, this is my girl Pepper. I've really been searching for some time now for two women to be on stage with me that I thought I could take around the world and have them really say what I was trying to say. I found them and they are my angels.
YH: I know that you also collaborated recently with Colby O'Donis.
LG: I've actually known Colby for a very long time. Because I was working with Akon writing for another artist and I happened to just meet Colby one day. And sonically he just sounded like a killer. You don't get anywhere by being lazy. It's about hard work and a good ethic.
This article is a stub. You can help Gagapedia by expanding it, adding pictures, and improving existing text.
References
Edit
Ad blocker interference detected!
Wikia is a free-to-use site that makes money from advertising. We have a modified experience for viewers using ad blockers

Wikia is not accessible if you've made further modifications. Remove the custom ad blocker rule(s) and the page will load as expected.