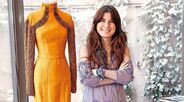 Zeynep Tosun is a brand designer from Istanbul, Turkey; Tosun went to Instituto di Marangoni located in Italy, Milano to study fashion design after studying business administration in university. After her 1 year fashion design study in Marangoni, she was accepted into master's program in the same school. During the time of her study in Italy, she kept coming to Turkey.
Fall 2013 Collection
Edit
"Hidden": Spring/Summer 2014 Collection
Edit
Ad blocker interference detected!
Wikia is a free-to-use site that makes money from advertising. We have a modified experience for viewers using ad blockers

Wikia is not accessible if you've made further modifications. Remove the custom ad blocker rule(s) and the page will load as expected.